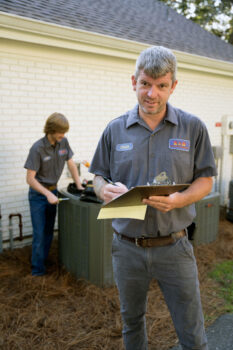 A/C Service & Repair
If you live in Tallahassee, you know that a window air conditioner is not enough to keep you and your family cool during the hot and humid summers of North Florida. At E&B Heating and Air, we offer air conditioning repair and new air conditioning installation at an affordable price. We can repair most brands and sell the leading brands in the air conditioning industry. So even if you didn't buy your HVAC system from us, we still can service most brands. Whether it's a standard maintenance or complex repair, you can count on us.
We provide A/C repairs for commercial properties such as office buildings, restaurants, hospitals, retail stores, and all types of businesses as well as residential homes.
We also offer several maintenance agreement plans that will help you save money and provide priority service on any future repairs. See our HVAC Club Membership page for more information on preventative AC maintenance plans for your air conditoning system.
Factory Trained Technicians
At E & B Heating & Air Conditioning, Inc., all of our technicians are trained and certified by the factory. But we do not stop there. We provide on-going in-house training to ensure superior customer service and that the job is done right the first time. Rest assured that when you invite an E & B Heating & Air Conditioning, Inc. technician into your home, you will get a friendly member of our family to take care of your HVAC service needs.
Our NATE-Certified technicians have the skills and expertise to repair and install any brand of air conditioning & heating system. Whether it is in your Tallahassee residential or commercial property we will do it without breaking your budget or disrupting your life.
Emergency Service / HVAC Repair
E & B Heating & Air Conditioning, Inc. takes pride in our fast response time when helping you with your emergency HVAC and repair needs. Our factory trained service technicians and diagnostic equipment enable us to perform adjustments or repairs when needed.
24-Hour Heating and Air Conditioning Services
Our friendly technicians are available 24 hours a day for your emergency service needs. Simply give E & B Heating & Air Conditioning, Inc. a call, day or night, and let one of our technicians help you with your problem. We are always here to assist you.
Call the 24/7 Emergency Line: 850-575-9119