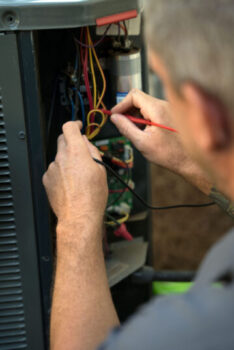 Heating Services
Furnaces and heating systems are complex machines that require regular maintenance by a licensed and qualified HVAC company in order to deliver warm air into your home or business.
At E & B Heating & Air Conditioning, Inc., we perform routine maintenance, emergency repairs, and heating replacement systems for residential and commercial buildings. Our team has the experience, knowledge, and skills to perform all of the heating services that you need in Tallahassee, FL.
Regular Maintenance Of Your Heating System
It is in your best interest to keep your heating system in good working condition. With regular maintenance, this helps detect and prevent problems that could require costly repairs in the future.
We perform annual inspections on your heating system and routine maintenance such as cleaning, replacing air filters, and lubricating the moving parts. Our skillful HVAC technicians are experienced with all makes and models of residential and commercial heating systems.
Factory Trained Technicians
At E & B Heating & Air Conditioning, Inc., all of our technicians are trained and certified by the factory. But we do not stop there. We provide on-going in-house training to ensure superior customer service and that the job is done right the first time. Rest assured that when you invite an E & B Heating & Air Conditioning, Inc. technician into your home, you will get a friendly member of our family to take care of your HVAC service needs.
Our NATE-Certified technicians have the skills and expertise to repair and install any brand of air conditioning & heating system. Whether it is in your Tallahassee residential or commercial property we will do it without breaking your budget or disrupting your life.
Emergency Service / HVAC Repair
E & B Heating & Air Conditioning, Inc. takes pride in our fast response time when helping you with your emergency HVAC and repair needs. Our factory trained service technicians and diagnostic equipment enable us to perform adjustments or repairs when needed.
24-Hour Heating and Air Conditioning Services
Our friendly technicians are available 24 hours a day for your emergency service needs. Simply give E & B Heating & Air Conditioning, Inc. a call, day or night, and let one of our technicians help you with your problem. We are always here to assist you.
Call the 24/7 Emergency Line: 850-575-9119