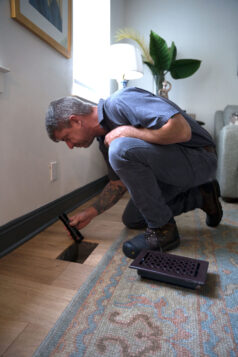 Air Duct Inspection & Cleaning
Clean air ducts equal a clean home. Clean air ducts can increase the air quality of your home as well as the efficiency of your air conditioning and heating system. From time to time you will need to have the ducts professionally cleaned for harmful dirt and debris that can build up over time and are released into the home from your supply registers.
Some common questions to ask about your air ducts?
What is air duct cleaning?
When should you have your air ducts cleaned?
How to choose a duct cleaning service?
What to expect of your air duct cleaning provider?
To get the answers to these questions, call an E&B Heating & Air Duct cleaning specialist today and for a no-hassle quote!